THE ESPORTS AWARDS 2023 UNVEILS THE FIRST WAVE OF FINALISTS, INCLUDING RIOT GAMES, PUBG MOBILE AND LOUD
The Esports Awards returns to Las Vegas to celebrate its ninth year, with the main ceremony taking place at the Best of Las Vegas 2022: Best Nightclub awardee, Zouk
Ludwig 'Ludwig' Ahgren, PUBG MOBILE, and Riot Games are among the first wave of finalists in the Entertainment, Creative and Industry award categories
Voting is now open for the Entertainment, Industry, and Creative categories, where the public can vote every 24 hrs with all other categories still open for nominations – https://esportsawards.com/vote/
LAS VEGAS, NV (June 26, 2023) – The Esports Awards, the most prestigious night in the esports calendar, is excited to present the first set of finalists for this year's event, which will be hosted by the most innovative and technologically advanced nightclub in Las Vegas, Zouk. After a huge wave of nominations, VALORANT, Bruno "Nobru" Goes, and Riot Games are among the names shortlisted as finalists.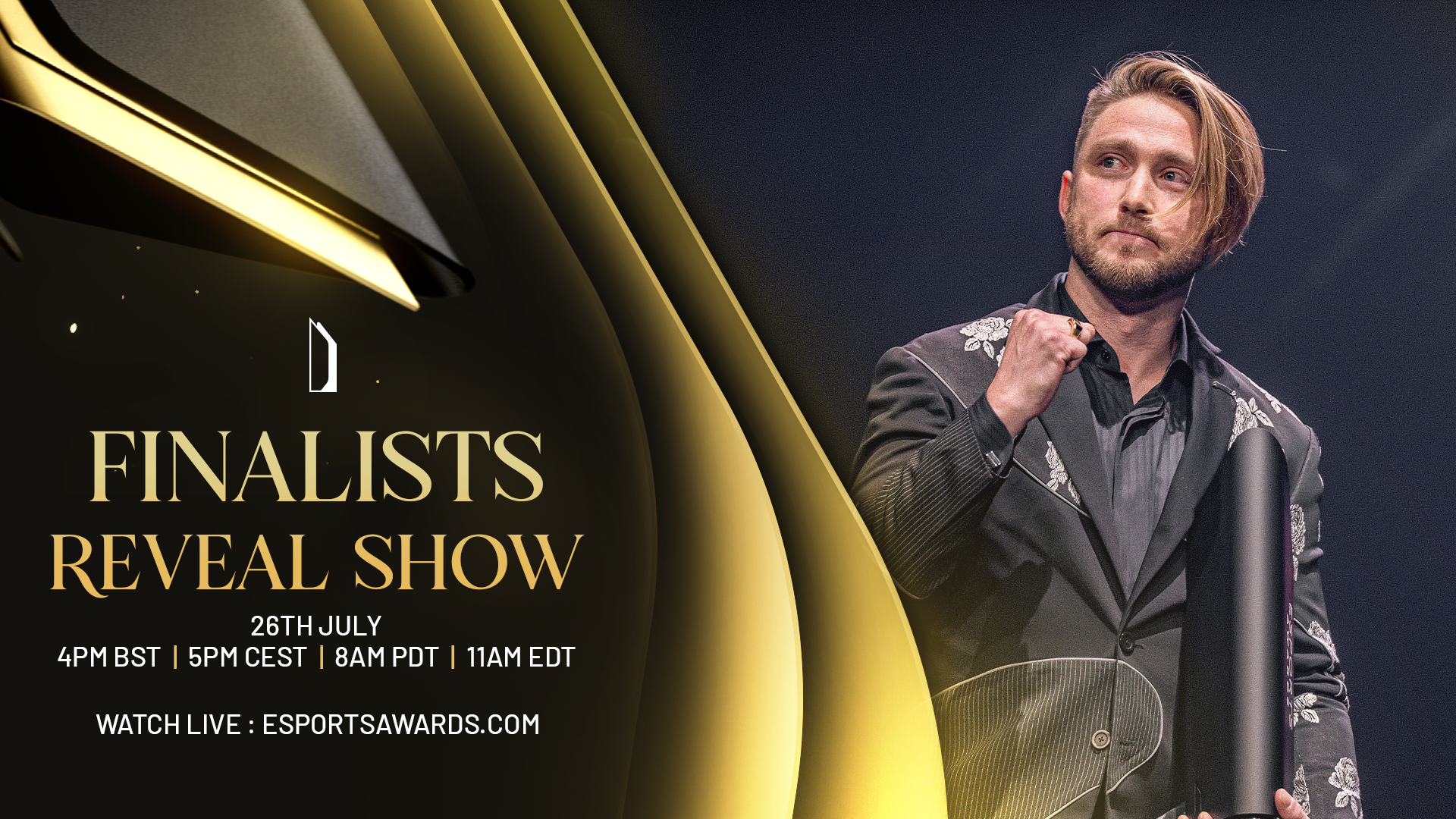 The finalists were announced as part of the first Finalists Reveal Show of the year, hosted by the renowned and beloved casters Caleb 'Wavepunk' Simmons, Thom 'F.' Badinger and James 'Dash' Patterson. Taking centre stage, the Finalists Reveal Show unveiled the highly anticipated finalists shortlisted for the Entertainment, Industry, and Creative categories. The first wave of finalists includes big names such as the powerhouse Andrew "Judo Sloth", luxury brand Gucci and one of the world's most popular esports, League of Legends.
Voting is now open! Fans can visit the Esports Awards website and vote for their favourite nominee every 24 hours before the deadline on November 20th. Vote now at https://esportsawards.com/vote/.
The full list of award finalists are:
Esports Content Creator of the Year
Juan "Hungrybox" Debiedma
LOUD
Seth "Scump" Abner
theScore esports
Tribo Gaules
S8ul Esports
Andrew "Judo Sloth"
One True King OTK
Last Free nation
Christian "IWDominate" Rivera
Esports Personality of the Year
Seth "Scump" Abner
Ludwig "Ludwig" Ahgren
Alexandre  "Gaules" Borba Chiqueta
Charles "MoistCr1TiKaL" Christopher White Jr
Jeremy "Disguised Toast" Wang
Bruno "Nobru" Goes
Hector "H3cz" Rodriguez
Naman "Mortal" Mathur
Victor "Coringa" Augusto
Streamer of the Year
Ibai Llanos
Félix "XQC" Lengyel
Kai Cenat
Tarik Celik
Alexandre "Gaules" Borba Chiqueta
Blaire "QTCinderella"
Seth "Scump" Abner
Aliffe "Paulinho o Loko" Henrique Carvalho
Samy "Riversgg" Rivera
Chikara "FPS_Shaka" Kawakami
Esports Game of the Year
VALORANT
League of Legends
CS:GO
Rocket League
Call of Duty Modern Warfare II
Mobile Legends: Bang Bang
PUBG MOBILE
Dota 2
Fortnite
Esports Mobile Game of the Year
PUBG MOBILE
Mobile Legends: Bang Bang
Brawl Stars
Arena of Valor
Call of Duty: Mobile
Freefire
Honor of Kings
Clash
Pokémon Unite
Esports Commercial Partner of the Year
Red Bull
Logitech G
Monster
Prime Gaming
Gillette
Intel
Gucci
Chipotle
State Farm
Esports Coverage Platform of the Year
Liquipedia
Dexerto
Esports Insider
HLTV
Esports Charts
Dot Esports
Sports Business Journal
Esports Hardware Piece of the Year
AMD Ryzen™ 9 7950X
Logitech G PRO X 2 LIGHTSPEED
Asus ROG Ally
Stream Deck MK.2
Higround Keyboard
Razer Viper Mini Signature Edition
Samsung Odyssey OLED G8
Corsair Xeneon Flex
SteelSeries Nova Pro
Esports Publisher of the Year
Riot Games
Moonton
Supercell
The Pokémon Company
Valve
Psyonix
EA
Esports Supporting Service of the Year
Character Select Agency
ESG Law
GRID
Evolved Talent Agency
Esports Engine
OP.GG
Paper Crowns
Bad Moon Talent
New LVL Recruiting
Esports Broadcast/Production Team of the Year
EFG
Esports Engine
Riot Games
Blast
Psyonix
Esports Content of the Year
GG Legends (Gucci)
JOIN THE NEW ERA | 2023 VCT LOCK//IN | Cinematic Trailer
RALPH LAUREN X G2 LIMITED COLLECTION (G2 Esports)
Counter-Strike: It's in our DNA
Faker: A decade of greatness
The Breakdown (Scump)
Greatest Comeback In Dota 2 History: The Return Of Ceb (Red Bull)
Risking It All: The Tale of Gen.G
FURIA: Behind the Game
Valorant Roster Announcement 2023 Team Liquid
Esports Cosplay of the Year
Larissa Rochefort
LittleJem
Kinpatsu Cosplay
Annjelife
Inaste
AkemikunCosplay
Bec of Hearts
Esports Creative of the Year
Ovilee May
SesoHQ
Kvindsgn
Thorsten Denk
Tiago "LIQUID Enigma" Paixao
Sydneycreates
Esports Creative Team of the Year
LOUD
Team Vitality
G2 Esports
Sentinels
Team Liquid
North Studio
Flyquest
NMBRS Studio
Paper Crown
The Esports Awards welcomes back Oakley as its official eyewear partner following a successful 2022 collaboration. Additionally, the Esports Awards have partnered with 5GRV: Gamers on the Road, who will present the Esports Host of the Year Award during the ceremony.
"We're thrilled to kick off the public vote with our first wave of finalists for this year's Esports Awards. The lineup of talented individuals and organisations involved in esports is truly inspiring, and it's an honour to provide a platform that recognises their hard work. This promises to be our biggest event to date, and I look forward to welcoming the best talent and organisations in the industry to Las Vegas this November for a night of recognition and celebration." said Michael Ashford, CEO, Esports Awards
The Esports Awards 2022 campaign key dates:
20th September: Pro and On-Air nominees reveal
13th – 20th November: Turbo voting period–votes are worth double
20th November: Voting closes on all categories but 3
25th November: Voting closes for Esports PC Player, Esports Organisation and Esports Team of the Year
27th & 28th November: Inaugural Scholars
29th & 30th November: Esports Awards 2023
### Ends ###
Esports Awards
Founded in 2015, the Esports Awards is the most prestigious night in the esports calendar and the only global award show that aims to recognise esports excellence.
The Esports Awards is dedicated to showcasing world-class performance and innovation from every corner of the industry throughout the year and reaches its pinnacle at its end-of-year ceremony considered the Oscars of esports. The ceremony celebrates everyone from the players, teams, media, hardware providers, games, events, and personalities that shape the esports industry.
The 2021 Esports Awards saw a record-breaking 20 million viewers across the campaign, and 10 million votes counted. For 2023 the Esports Awards returns to Resorts World Las Vegas for the second time.
Website // Twitter // Facebook // Instagram // Twitch
Media Contact:
Adam Jones, Swipe Right PR – adam@swiperightpr.com