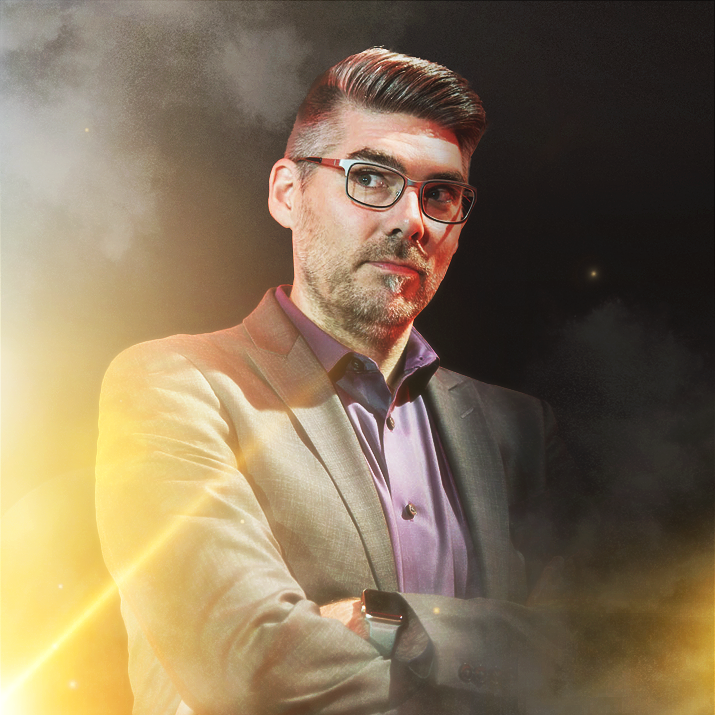 Born in the late 70s, Marcus "djWHEAT" Graham is one of the pioneers in the live streaming and esports scene and considered by many the "father of the esports commentators", earning his place in the Esports Awards Lifetime Achievement Class of 2019.
"djWHEAT" has been in the industry since the 90s and, although in his beginnings he was mostly involved with Quake III Arena, as a player and a commentator, he is most known for his cast and content production around Starcraft 2, working on a great number of live events and online shows for Twitch, Blizzard, Riot, Hi-Rez, Skybound, WCG, MLG, Dreamhack, Valve, and more. 
He grew up in Nebraska, where he graduated from the University of Nebraska-Lincoln. After graduating he combined his work in IT Management with his passion for esports, dedicating his free time to his Quake III team. He was the leader of Clan 519 under the name Styles519.
In 1997, when he could not attend a Quake III event in Sweden, he decided to broadcast the updates through a platform called RealAudio to an online audience thus commencing the start of everything. With time, his following started growing and this platform wasn't big enough anymore, so he moved to SHOUTcast, which allowed him to have 1.000 listeners at the same time. He started to broadcast through this platform 7 days a week for 4 years, and then, in 2002, he was invited to live comment the World Cyber Games in Korea, in that moment everything changed and he got a lot of recognition in the scene. After that, Team Sportscast Network (TSN) arrived at an agreement with him, making Graham their new Quake broadcaster which would lead him to work later at DirecTV in the Championship Gaming Series around 2005 for two years.
After three years out of the scene, in 2009, djWHEAT started his streaming career through different streaming platforms with his programmes dedicated to the gaming scene until he landed in Twitch. In 2011, due to his success, the company made him an offer to join the team where he has remained ever since. Currently, he is the Head of Creator Development at Twitch, bringing the new generation of creators and Twitch together to continue to shape the esports industry, cast and produce unique content.